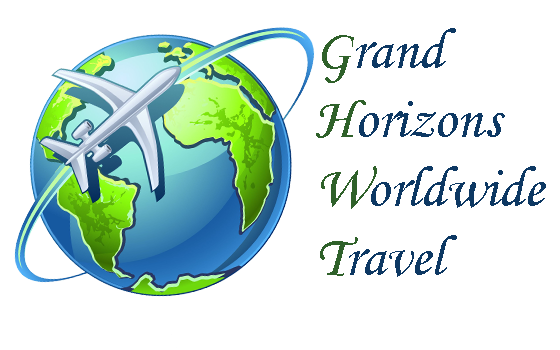 Grand Horizons Worldwide Travel
Traveler Testimonials
To submit a testimonial, please complete our contact form or email Russ at schraderrc@comcast.net.
Lori H.
For our 30th weeding anniversary, Russ helped us celebrate by planning and booking the most amazing trip. We started our cruising adventure in San Diego with stops in Monterey, Santa Barbara, San Francisco, Oregon, Seattle, Victoria B.C and ending in Vancouver. Russ booked the best boutique hotel in Vancouver - St. Regis Hotel. He recommended sites to see and places to eat in Vancouver - all of them spectacular! He also recommended a bus that provides transportation from Vancouver to Seattle which was very inexpensive. Our stay in Seattle was just as enjoyable based on more recommendations from Russ on places to see and eat. We highly recommend booking any travels plans through Russ and Grand Horizons Travel. Thanks Russ!!!!
Jessie F
What a Trip!!! Thanks to our Travel agent, Russ Schrader, my husband and I experienced a trip of a lifetime to Antarctica and South America this past February, 2017. His exceptional knowledge and expertise in arranging private tours with guides who were not only outstanding, but attentive to our own personal needs, gave our group the unique adventure experiences that a cruise line tour(s) could not. Russ is the type of travel agent who always tries to pay attention to details while keeping in mind that most people have some sort of budget they are trying to stay within. The hotel accommodations in Buenos Aires were ideal and the restaurant suggestion in order that we could experience the local cuisines was right on. From the air fares, to the cruise, to our pre and post tours, we could not have asked for more. Thanks again, for making this trip one we will never forget. Jessie F.
Kathy D - Connecticut
John and I want to thank you for our Amazing trip to Hawaii. We are always happy when we go on a trip hosted by you and Nancy. You are so attentive to every detail and make sure you plan such interesting excursions. We learned so much about Hawaii and especially Pearl Harbor, and we saw so much natural beauty ,Awesome to see the volcano actually erupting and the Beautiful waterfalls. We will always travel with Grand Horizons Worldwide Travel and look forward to our cruise next year with you, Aloha from John and Kathy
Jody S - Connecticut
Russell has been my only travel agent for many years now. Prior to my first experience with Russell I would use the agency with the best deal. What keeps me a loyal customer is his attention to detail, concern for safety in travel , the variety of choices he offers in trips , his willingness to also just listen to what you want and what you want to spend and he gives you great options and honest opinions . I use Russell for both escorted ( he has many years of experience and is extremely knowledgeable ) and individual trips on my own all over the world . Any issues that come up ( no matter how minor ) he addresses and makes it right. I would highly recommend using Grand Horizons Worldwide Travel as you will be treated more like a friend than a customer.
Robert and Doris M - Massachusetts
We have been traveling with Russ Schrader for the last five or six years with my family. Russ has been a terrific travel agent throughout our travel experience. Always able to talk to him about problems we have.
Bev and Pete H - Rhode Island
My husband and I have been traveling with Russ since 2001. We usually go on at least two foreign trips with him each year. He provides a level of service that is far superior to other travel agents that we have used. We have gone with him to Alaska, Hawaii, Morocco and all of Europe multiple times. We are also signed up for The Galapagos and Equator this summer and Thailand, Vietnam and Cambodia next spring. In addition, my sister-in-law and I have also enjoyed his annual February Caribbean cruise for the past 15 straight years.
Russ works extremely hard at providing the best product for the best price. For instance, when putting together a cruise he contracts with local services to give you a private, personalized shore trip; seeing more places, for more hours and for less money than the ship charges. He is especially good at foreign travel and because he does his homework he consistently chooses great hotels and restaurants. Should a problem arise, Russ handles the situation with professionalism and speed. More than once I've seen him take control of an impossible situation and rectify it immediately with great finesse. His wife Nancy, who is a sweetheart, always accompanies him and together they make a great team providing you with a safe, enjoyable and memorable experience. I love traveling with Russ and Nancy because I know I will be completely satisfied and most importantly, safely taken care of.
Nancy R - Connecticut
The best vacation I ever had was to Ireland hosted by Russ. The ease of booking-from obtaining passports to customs was superb. Russ made sure our accommodations were top-notch, our excursions enjoyable and interesting. You don't have to worry about the details when you travel with Russell.
Jon L - Connecticut
I trust Rusty completely with making travel arrangements and leading group travel. One of the best things about Rusty is his calm demeanor. When the inevitable snags come up in travel, there is no drama. He simply resolves the problem. Calmly and quietly. I trust him, and so can you.
Cynthia S - Connecticut
First of all let me congratulate you on your new travel business venture! I for one will definitely continue to use your travel services as I always feel confident when working with you on trip plans. The many previous trips I have done with you have always exceeded my expectations. And I look forward to future trips assisted by Grand Horizons Worldwide Travel LLC.
Bobbie Y - Arkansas
Russell was recommended to my husband and I by a friend with a mutual passion for travel 5 or 6 years ago. We not only have had Russell take care of various travel arrangements, we have also had the pleasure of being accompanied by him and his wife on two trips, the last one to Kenya which was indeed the trip of a life time! No matter how much or little you need of Russell's services, be it booking an entire trip, or only specifics you require, he makes sure all is taken care of thoroughly and efficiently. He is definitely our go to guy for all our travel arrangements!
June and Jack O - Arkansas
We were novice cruisers when we learned of Russ in 2007. After working with a local travel agent in Little a Rock, AR regarding our first cruise to Alaska, we were completely confused. As we were going to be traveling with our niece and nephew who live in CT, we asked them about their travel agent. Russ promptly got in touch with us and emailed us three scenarios outlining three different cruises. He also booked hotels, tours, and a great price on a rental car in Alaska. We were immensely impressed and promptly booked our first cruise with Russ even though we had never met him in person and live 1300 miles away. Since then we have booked eight cruises (seven in Europe) and five land tours with Russ. We sometimes like to add additional days either before or after our cruises and Russ does a great job finding well located hotels at reasonable rates. Russ is friendly, courteous, efficient, thorough and responds quickly to answer questions. We have bragged about Russ to friends here in Little Rock. We know of several couples who have booked with him. Last summer a group of four Little Rock couples went on an African Safari led by Russ and his wife, Nancy. Russ and Nancy Schrader - the BEST!!!
Gary S. - Connecticut
To all travelers: We have used Russ several times on trips to the Caribbean in the past l and have been very satisfied with them. The trip always have been well thought out and at a good price. The arrangements Russ has made were complete and Russ has always been around with good explanations of what is going on and to fix any problems (very few ). The trips were very good value and Russ has been able to book excursions at reasonable rates. We have enjoyed traveling with Russ and plan to travel with him in the future.
Customized Worldwide Travel